Do Racist People Deserve Access To Their Basic Rights?
Before I pose this question I want to make it clear that I do not think the trucker protest / Freedom Convoy is racist in any way.  I think they represent the valid concerns of many Canadians. I think that they're going about it in a peaceful way that aligns well with our democracy. I think the multitude of footage coming out of Ottawa proves that to be true.
Further, to specifically speak to racism and so called "white supremacy" let's look at the makeup of the people who are protesting.  There are many groups represented in the Trucker Convoy for Freedom. From Sikh to Mennonite and everything in between.  So, the accusation of racism or white supremacy is infantile and stupid.  Meant to provoke and distract from the conversation at hand. It should be dismissed as nothing more than a distraction. However that is not happening.
New leader of the CPC Candice Bergen asked "Please tell Canadians what the solution is to get past this impasse."  Deputy PM Freeland responded by using an anecdote by a black Canadian talking about swastikas' and confederate flags.  She did not address the core issues the convoy is there to protest. Instead she changes the conversation to something she wants to talk about. In doing so she is ignoring these legitimate concerns that are being brought by a broad spectrum of Canadians.
In her first appearance in Question Period as interim leader of the Conservative Party of Canada, @CandiceBergenMP accuses the Trudeau Liberals of "classic gaslighting." #cdnpoli pic.twitter.com/hJyjpIcoOI

— True North (@TrueNorthCentre) February 3, 2022
Here is the question. Fundamentally do racist people deserve access to basic rights? This Government is claiming that because one swastikas flag was flown and one confederate flag was seen that the truckers convoy is an invalid protest that deserves to be dismissed.
There are images of the flags in question. In one there appears to be the official photographer for Justin Trudeau taking a picture of the confederate flag. I will show the examples in tweets below: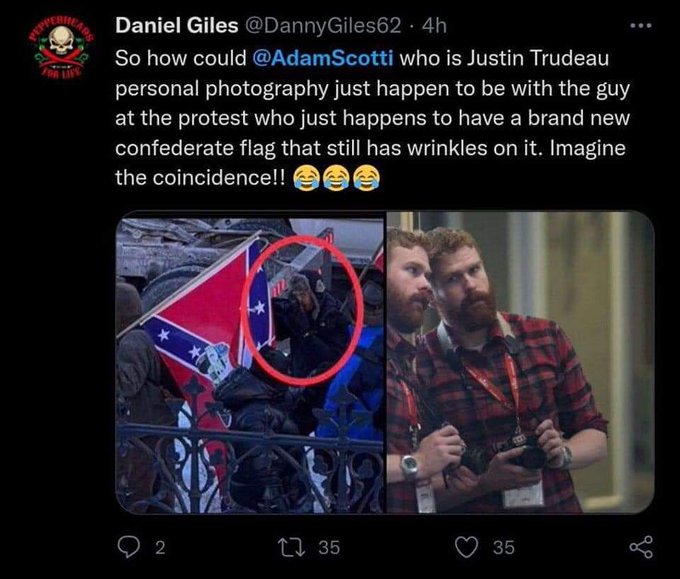 So how could @AdamScotti who is Justin Trudeau personal photography just happen to be with the guy at the protest who just happens to have a brand new confederate flag that still has wrinkles on it. Imagine the coincidence!! 😂😂😂 pic.twitter.com/xRnd6WURSM

— Daniel Giles (@DannyGiles62) January 30, 2022
Let's ID this guy too. No doxxing, pls DM me. I'm paying cash for tips pic.twitter.com/Zd5BpxYlQA

— Candice Malcolm (@CandiceMalcolm) January 30, 2022
IMPORTANT – PLEASE SHARE

This is where the photo of the Swastika was taken. It is the terrace of the Chateau Laurier.

The photographer was standing on the lower part of the terrace, the people with the flags are standing on the steps.

This is 100% staged. pic.twitter.com/msdTTbo0Hf

— Rants Derek (@Rants17402017) February 2, 2022
Here is proof positive that this is not a protest of any single race:
#ByeJustin 😂 pic.twitter.com/FQSIvFhXyb

— Fringe Minority Robby 🇨🇦🚛🚚 (@ItsRobbyBitch_) February 3, 2022
As the legacy media is not sharing their voices, we asked some of the truckers how they felt about being characterized as racist and far right. #FreedomConvoy2022 #TruckersForFreedom #FreeCanada #FreeTheWorld #NoVaccineMandates #NoVaccinePassportsAnywhere #ConvoyForFreedom2022 pic.twitter.com/qCZND6NEqR

— Canadian COVID Care Alliance (@CCCAlliance) February 3, 2022
The government's whole argument is that these truckers do not deserve to be heard because they are racist.  The proof of the racism is in the display of the flags. But it's not illegal to be racist. It's not illegal to fly "racist" flags. Justin Trudeau had a protester fly a flag with a swasticas at one of his events, recently.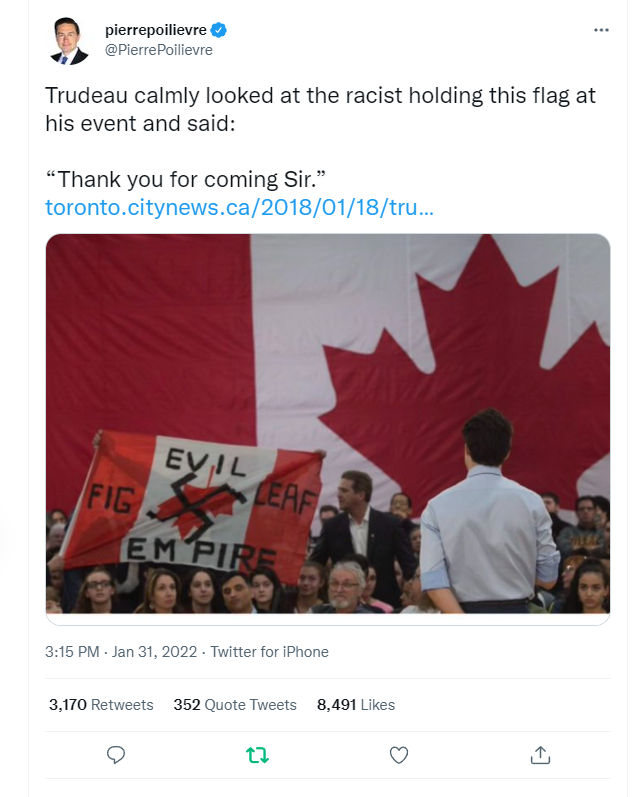 Trudeau calmly looked at the racist holding this flag at his event and said:

"Thank you for coming Sir."https://t.co/O9tsj14xbh pic.twitter.com/blB2pPJlMQ

— pierrepoilievre (@PierrePoilievre) January 31, 2022
It's certainly not legitimate to strip someone of their charter rights because "racism."  Why can the Government of Canada dismiss a protest like this on these grounds? The Truckers are not making "racist" demands. Their demands are that the government remove the illegal vaccine mandates and vaccine passports.
Further, there has been no charge. No trial. No conviction. These Truckers are protesting because the Canadian Government has stripped the public of their basic Charter rights and we all want those rights back.  Accusing these Truckers of racism is an end run around actually accusing them of a crime. It is trial by public opinion and the opinion has already been purchased.  Dissenters purged.
To answer the question definitively the answer is ABSOLUTELY. Racist people and all people deserve access to their basic rights. It doesn't matter that the Truckers aren't racist. It doesn't matter what the parameters are. All people deserve access to their basic rights.  The Government's suggestion that these protests should be ignored on grounds that some people are racist is not acceptable and needs to be rejected and ridiculed.
The Federal Government need to be told to stay on topic – vaccine passports and vaccine mandates.  They need to be told to stop throwing around accusations of racism to derail discussing the very valid concerns the Truckers are bringing to Ottawa. They need to stop hiding behind bullshit accusations and face the music for the harm they've caused.
Here is the press conference from the Freedom Convoy Organizers on Feb 3 2022
People trying to find the nazi flag waving guy
Let's not let this die. Let's expose the Nazi loser who tried to smear the entire convoy. True North will pay $6,500 for information leading to his identity. Someone out there knows who this is. Pls DM me. https://t.co/HKhpkhaV9x

— Candice Malcolm (@CandiceMalcolm) February 1, 2022
Not a racist event
God bless this man 🇨🇦 https://t.co/dsk0UvJfL9

— Candice Malcolm (@CandiceMalcolm) February 2, 2022